Free Rygaard Apply Detail Brush
This brush pack has:
1x free custom 3DCoat brush – Rygaard Apply Details.
68x brush tips Skin Pack (alphas).
este pacote de brush contem:
1x 3DCoat brush gratuito – Rygaard Apply Details .
68x pontas de brush do pacote de peles (alphas).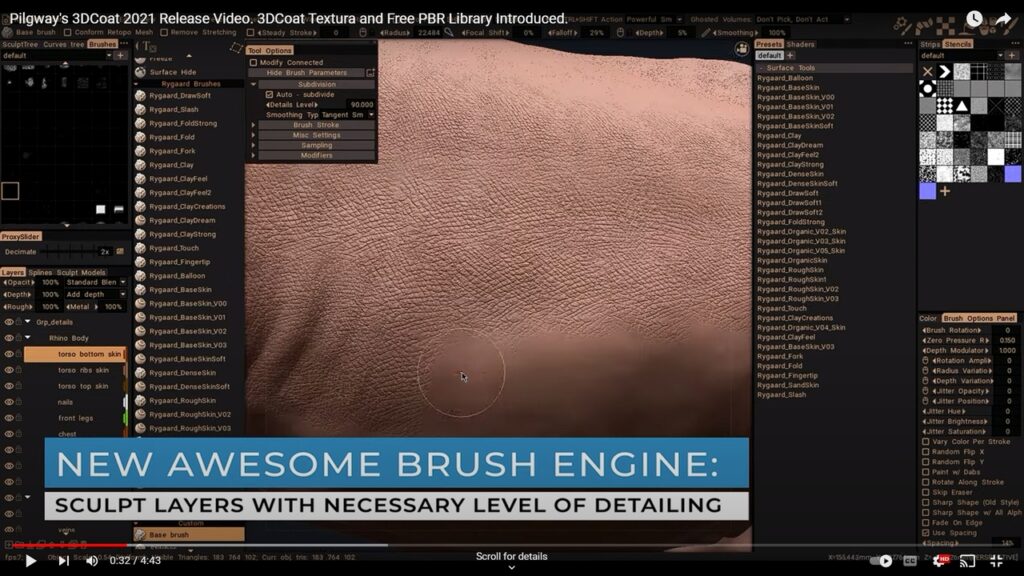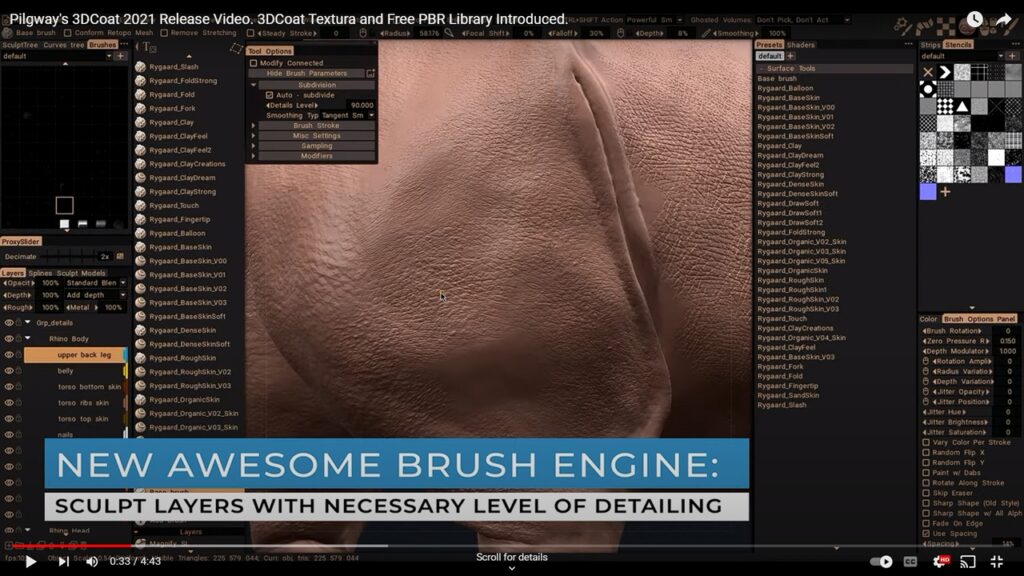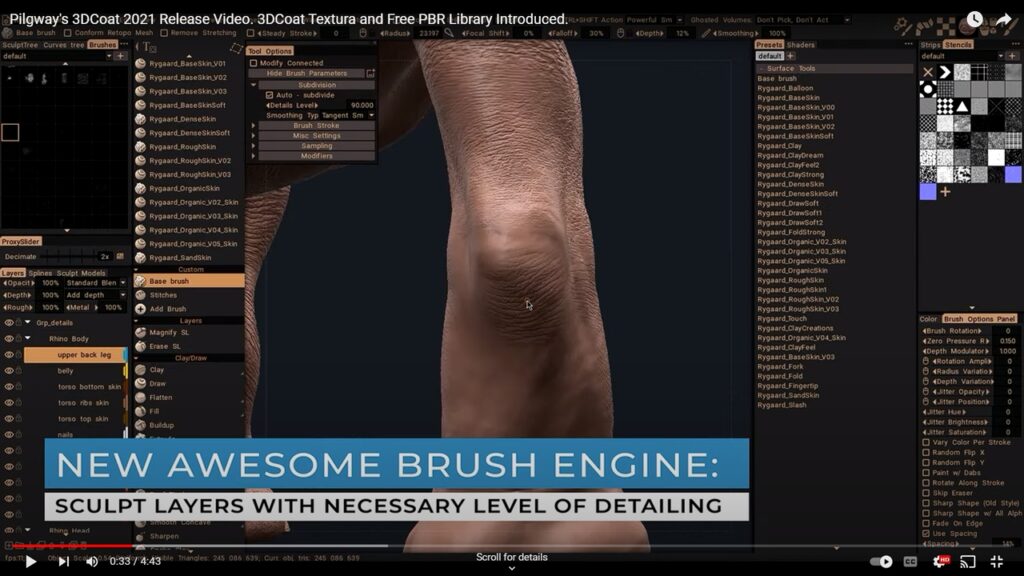 pack installation process:
---
Extract the rygaard_creations_apply_details_brush_and_skin_alphas.rar file somewhere on your computer to access the brush file with .3dcpack extension.
In 3DCoat, go to File menu.
Then on the Install option and choose the Install Extension command.
In the "Open" window that will appear, go to the location where the brush was extracted on the computer and select the file with the .3dcpack extension, which is:
rygaard_creations_apply_details_brush_and_skin_alphas.3dcpack
After installing this package, restart 3DCoat.
processo de instalação do pacote:
---
Extrair o arquivo rygaard_creations_apply_details_brush_and_skin_alphas.rar em algum lugar no computador para ter acesso ao arquivo do brush com extenção .3dcpack.
No 3DCoat, ir no menu File.
Em seguida, na opção Install e escolher o comando Install Extension.
Na janela de "Abrir" que surgirá, vá até o local onde foi extraído o brush no computador e selecione o arquivo com extenção .3dcpack que é o:
rygaard_creations_apply_details_brush_and_skin_alphas.3dcpack
Após a instalação deste pacote, reinicie o3DCoat.

What happens after installing the package?
---
–> In 3DCoat, you will find the Brush Rygaard_ApplyDetails in two places:
In the Left Panel Tools of the interface.
In the Presets Palette.
–> Just like, the skin pack will be found:
– In the Brushes Palette, there will be a new folder called Rygaard Creations SkinPack.
O que acontece após a instalação do pacote?
---
–> No 3DCoat, você vai encontrar o Brush Rygaard_ApplyDetails em dois lugares:
No Painel Esquerdo de Ferramentas da interface.
Na Paleta Presets.
–> Assim como, o pacote de peles será encontrado:
– Na Paleta Brushes, existirá uma nova pasta chamada Rygaard Creations SkinPack.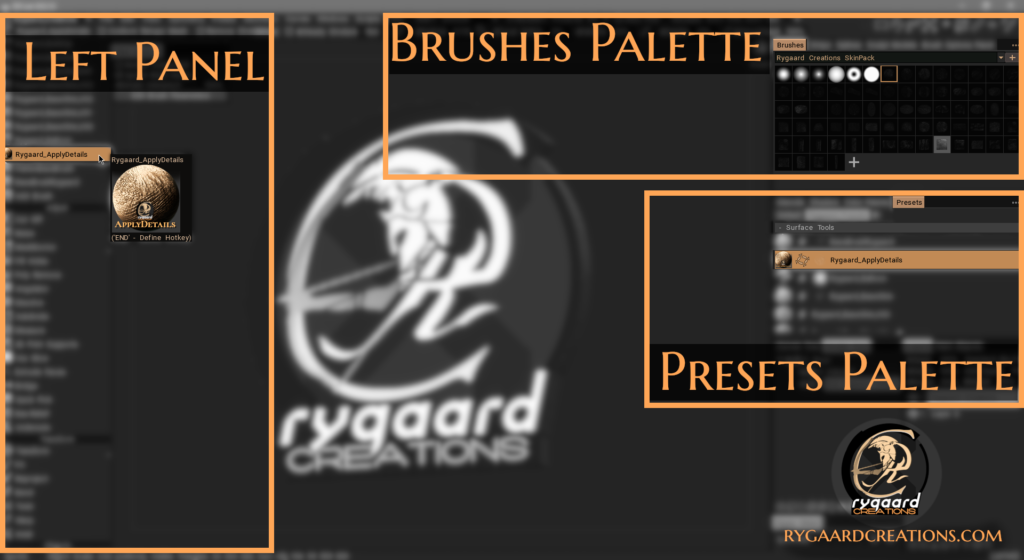 Why is there a brush in the Presets Palette?
---
Any brush in the Presets Palette has all the original settings defined for its correct functioning.
Therefore, if it happens that the brush settings are changed due to the use of other brushes and it does not work correctly as before, then the user will be able to select the brush that is located in the Presets palette and in this way the brush will return to its original state and correct functioning.
Por que existe o brush na Paleta Presets?
---
Qualquer brush na Paleta Presets possuem todas as configurações originais definidas para o correto funcionamento do mesmo.
Portanto, caso aconteça das configurações do brush serem alteradas em virtude do uso de outros brushes e o mesmo não funcione corretamente como antes, então o usuário poderá selecionar o brush que está localizado na paleta Presets e dessa forma o brush retornará ao seu estado original e funcionamento correto.
IMPORTANT WARNING
---
After the successful installation of this brush pack, Up to version .53 of 3DCoat-2022 shows the visualization of the alphas in a darker way inside the brushes palette, therefore making it difficult to identify them.
This means that there was no problem with your installation and the alphas work correctly.
This issue was reported to the 3DCoat developers and quickly fixed!
So, in version .54 of 3DCoat-2022, the preview color will be normalized and that means we'll have a great preview of the alphas inside the brushes palette!
It is important to say that it will not be necessary for anyone to install the brush pack again, please, just update 3dcoat (which will have this fix) and the program will regenerate the previews automatically.
AVISO IMPORTANTE
---
Após a instalação feita com sucesso deste brush pack, até a versão .53 do 3DCoat-2022 mostra a visualização dos alphas de forma mais escura dentro da paleta de brushes, portanto dificultando a identificação do mesmos.
Isso quer dizer que não ocorreu nenhum problema na sua instalação e os alphas funcionam corretamente.
Esse problema foi reportado para os desenvolvedores do 3DCoat e rapidamente já foi consertado!
Então, na versão .54 do 3DCoat-2022, a cor do preview será normalizada e isso quer dizer que nós teremos uma ótima visualização dos alphas dentro da paleta brushes!
Importante dizer que não será necessário ninguém instalar novamente o brush pack, por favor, apenas atualize o 3DCoat (que terá esse conserto) e o programa irá regenerar os previews automaticamente.